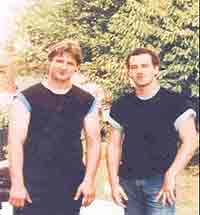 Chicago Gaylords
From a social club in the late 1940s to a greaser gang in the 1950s, The Gaylords became a force to be reckoned with. From the 1960s on, the Gaylords spread throughout the City of Chicago.
Explaining, Documenting and Defining One of Chicago's Most Well Known Gangs
Historical Account of what it took to walk the streets of Chicago as white youth in the 1970s and 1980s. Learn why and how Chicago street gangs existed, and how the Gaylords grew from a neighborhood street gang in the 1950s into the largest white gang in Chicago.
The Chicago Gaylords, assumed to be a North Side Street Gang, had sections on the South Side in Sherman Park (55th and Ashland), 18th and Western (Pilsen area), and Bridgeport (Throop Street).
The Chicago Gaylords 70s expansion North built two power sections: Uptown - Sunnyside and Magnolia and Ravenswood - Seeley and Ainslie.
Gang colors: Black and light blue: all sections started by Kilbourn Park; Black and Gray: all sets started by Palmer Street; Black and Brown: all sections started by 18th and Western on the South Side.
Two non-fiction novels have been written about the Chicago Gaylords street gang: Great American Youth and Lords of Kilbourn written by Rocker, a former Lawndale and Altgeld and Kilbourn Park Gaylord.