Chicago Greaser Gangs
Capone Lords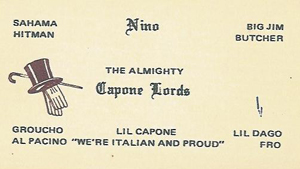 RICE BOYS:

were on Rice and Pine, Chicago and Central, and on Kostner and Wabansia.
Crystal and Long under the PVR's

PLAYBOYS:

Wrightwood and Laramie in the mid 80's.
Cragin Park Playboys/pvr's (Playboys/Ventures/Rice Boys unity), they lasted up until the early 90s. The Playboys also had sections on Division Street. There was a big set of PVR at Galewood Park.

UNITED FIVE ORGANIZATION: United Fighting Organization
Coal Yard
COAL YARD GANG:

Ex-Coal Yard Bob said: The Coal Yard Gang was at Lakewood and Wolfram, near Southport and Lincoln Avenue. Just a local white gang originating in the early 60's. Mostly just taking care of local business. I was mostly a partier. I was too small, and often found myself in over my head way too many times.
We had some associations with SCR at Fullerton and Southport, Wrightwood Boys and PBC's, Paulina/Barry Corp, and Insane Unknowns from Lincoln/Wrightwood area. Our colors were Black and White.
Drugs f*cked everything up. That brought in guns. few people remember the true meaning of respect. I remember Lennies across from Lane Tech. I can still taste that greasy bag of fries, ten cent pin-ball games. It was neat place. Everyone was safe there. Even girlfriends could meet you there.

SAYRE SCHOOL BOYS

SAYRE PARK BOYS

KEELER AND IRVING PARTY PEOPLE

LELAND AVE PARTY PEOPLE

INSANE HOODS

WILSON BOYS

PARK 9ers

BYRON AND KOSTNER BOYS
WHITE KNIGHTS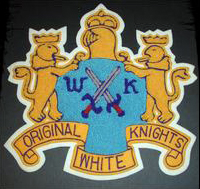 Young Destroyers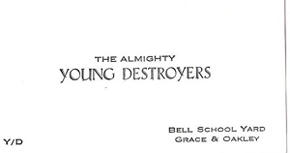 JCLs

BELL PARKERS

RIIS PARKERS

MONROE BOYS

LECLAIRE AND GEORGE

HOWARD STREET GREASERS
Furies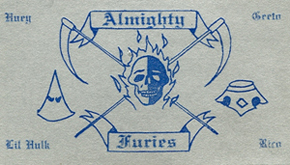 BYRON AND KOSTNER BOYS

TWELFTH STREET PLAYERS

EVANSTON SAINTS: late 70s, early 80s

There was a gang called the Saints from Evanston. They hung out at the Main street Metra station at about that time.

PULASKI PARK

DOVER LORDS: 1960s

They hung around Broadway and Montrose.

ROGUES: 1960s

ABOs

LOCAL 13

SHABONA PARK BOMBERS

ELMWOOD PARK BOYS

HARLEM PLAYERS

PARK BOYS

FURIES

GRAND AND NOBLE BOYS

DEVON BOYS

A-BOYS

ASHLAND AND ADDISON

HAPPY GENTLEMEN:

Humboldt Park Jewish.

BRYN MAWR BOYS

JP's & Jr JP's: 1967

from Riis Park

Pastels (girls): 1967

Cascades (guys): 1967

CHICAGO and LAVERGNE: 1966-69

CENTRAL and LEMOYNE: 1966-69

15 to 20 mostly Greek Gang.

CHICAGO and LAWNDALE: 1966-69
ROYAL CAPRIS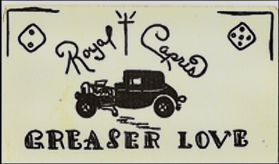 Hung out in the Foreman H.S. parking lot. They use to hang at Belden & Ridgeway and hung with the Lawndale Gaylords.
DIVERSEY AND KEDZIE: 1974

They hung out at the pool hall on their corner. Also, Vito's Red Hot Stand on milwaukee and Big George's on Division.
South Side Gangs
MAD LADS:

(very large, very active, and very short lived). The Mad Lads were predominantly white, and wore gray sweaters and berets.

MANIAC DUKES: 70's

Turf: 52nd and Justine. Were the Justine Syndicate and the Maniac Savages. About ten guys.

MANIAC DUKES OF 59TH STREET: 60's

They were East of Damen and West of Ashland.

SEIDALS: 50's

Girl gangs from Back of the Yards which stood for - Ladies spelled backwards.

ECIDONS: 50's

Back of the Yards Girl gang which stood for - no dice spelled backwards!

WINOS: 60s

59th and Damen Street

MUSKADOODLERS: 60's

Hung out at 49th and Loomis and Cornell Square Park. The Muskadoodlers were started around 1964 at Cornell park. They wore the linings from leather jackets and had a patch of a wine bottle with legs and arms on it. The Cornell Dukes came after the Muskadoodlers. The Muskadoodlers could be seen hanging out around the Cornell Park Rec Center. They came after the Cornell Square Rebels gang from the fifties.

MUSCATEL QUEENS: Back of the Yards

Symbol was a crown with abottle next to it.

59TH STREET SUPREME RULERS

KINGSMEN:

they were from around 59th Street.

FULTON PARK BOYS:

Turf was 53rd and Wood Streets.

NIGHTINGALES:

(Midgets were LITTLE NIGHTINGALES) They hung by the grammer school on 52nd and Rockwell.

BURGER KING BOYS:

They hung at the Burger King that used to be on 55th east of Ashland.

51ST STREET ROMANS: 1955-60s

51st St Romans gang started out about 1955 at 50th and Hoyne with 15 members Had a club house in a garage on 50th st just west of Hoyne for a while then moved on to 51st & Damen hangout was Minosos & J.B Bowling Alley until the late 50's then Joined up with a gang from 51st & Ashland were the membership grew to about 35 and the new hangout was Universal Candies at 51st & Ashland. The gang started breaking up in the early 60's turf was 50th St to 54th St Damen to Western.

63RD STREET IMPERIALS

63rd STREET BEER CLUB

EMERALD KNIGHTS: 60's

Latino: Emerald Knights are named after the street they hung out at which is Emerald. The Emerald Knights were the younger gang under the Latin Souls who evolved from the Village Sharks. 55th and Emerald. On 10-6-1970, The Emerald Knights fought the Devil's Disciples in a gang fight at 56th Street and Sangamon Avenue where three people were wounded and one died.

MORGAN DUKES: 60s

Morgan Dukes were a big group of white dudes that hung around 55th Morgan by Visitation School they fought with the puerto rican gangs from 55th halsted.

MONKEY TOWN BOYS: 60s

WESTLAWN: 60s

Westlawn were white greasers that hung around Westlawn Park & Hubbard High School their rivals were the Sawyer Boys & The Loafers.

HILLBILLY HEAVEN: 60s

Hillbilly Heaven were greasers that hung around 63rd Central their rivals were the 58th st Jungle.

V's:

They hung around behind Gage Park High School.

EVERGREEN PARK GANG: 1957

93rd Street and Chappel

18TH AND CANAL PORT GANG: 1940s

There turf was in Mark White Square around 2900 South Halsted Street.

LADY HEADS: 1972

White and Spanish girl gang from the Cooper Upper Grade School area around West 18th Place.

CHERRY BUSTERS: later 1960s

Aka Cheery Busters. Cherry Busters was a white gang that hung around Hedges school 47th s Winchester, and on 47th - 48th street on Walcott. They wore white jackets with two cherries on the back. The Cornell Dukes were the Cherry Busters prior to becoming the Dukes.

SUBNORMALS: 60's:

From 45th's Normal in Canaryville mostly Irish.

CENTURIANS: 60's

From Vittum Park had black & yellow sweaters and fought with the LA,S from Archer Park.

CAPRIS: 60's

There was also a girls gang on 47th st just east of Cicero called the Capris. They wore black & baby blue sweaters the neighborhood was called "Sleepy Hollow" and a lot different gangs would go there to hang out with the Capris and Party which led to alot of fights.

58st JUNGLE: 60's

58th St Jungle was a large gang that hung around Kennedy high school & the village green a dancehall where bands would play and lots of fights broke out between rival gangs.

WHITE NATION: 60's

White Nation or White Berets were white greasers from all over the Southside who wore white berets and fought with blacks and Latinos. There was no leadership just white dudes helping out other white dudes they seen wearing white berets. They hung around 56th-Western in the late 70's. The leader called himself "Mud" because he said if you fought him, that's where you'd end up.

EDWARDS BOYS: 60's

Edwards Boys hung around Edwards School on 48th s Karlov. Their enemies were Little Mexico, Boroughs Boys and The Muskadoodlers.

BROTHERS OF BRIGHTON: 60's

The Brothers Of Brighton hung around Brighton Park they wore gray and purple sweaters and fought with the Latin Lords. Hangouts: Dinahs restaurant 43rd and South Richmond across from Five Holy Martyrs church; Gunsaulus school: On whipple between 44th and South 45th Street, Drank beer dice games 16 inch softball, plus mischief. And the Rudy's Mom's Candy Store in the middle of the block on Whipple Street.

SCOTTSDALE BROTHERHOOD ASSOCIATION: 60s

LAFLIN DRIFTERS: 50s/60s

The late 50's until mid 60's the Laflin Drifters hung around 65 and laflin, by John;s store and Oscars food mart. They were there when the neighborhood was changing in the late sixty's. We hung around Ogden park at night and could get 60 or 70 guys if the blacks came to the loomis side of the park. The Loafers were one of the gangs that were enemies. When the area became integrated the police had a massive amount of manpower in the neighborhood, to keep the race fights from blowing up, this forced the white guys to go elsewhere, we ended up at 51 and damen for a while.

BOROUGH BOYS: 60's

The Boroughs Boys hung around Boroughs School at 35th s Washtenaw they fought with the Edwards Boys.

SATAN'S HEARTS: 60s

White gang, 54th and South Marshfield.

FLEMINGS: 67 to 75

hung between 63d and 65 th st Cicero west to Lawler park. Existed from 1967 to about 1975. Numbered about 50 at its height.

BEEF RANCH: 67 to 74

Beef Ranch, a group that hung around the restaurant by that name at 63d and Keating. Mostly Italian. Operated from 67 to 74. Numbered about 25 but never had any problems because they were pretty tough.

THE HILL: 68 to 75

The Hill, hung in the alley behind 66th and Keating, near the Cicero Ave hill. 68 to 75. Numbered about 50.

DUNLOPS: 50s

Brighton Park gang from around 1955 until 1959, made the newspapers quite a few times. Stood trial for arson, and assault to commit murder.

ONE WAY GANG: late 60s

4th REICH TROJANS

CAPRELLS PARK BOYS

INSANE ESQUIRES
ARISTOCRATS: 60's Archer Park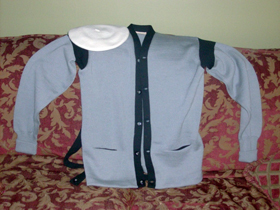 There was also Aristocrats on the southside they hung around Archer Park after the LAs broke up. Some of the old LAs became Aristocrats. They wore gray & black sweaters and some hung out at 47th and Avers. The Aristocrats were fighting with The Latin Lords & Young Savages from 38th s Kedzie that neighborhood was known as "Little Mexico".
WOOD STREET WALKERS
The Wood Street Walkers got their name because they were a bunch of young guys, without drivers licenses, who walked Wood Street. The Wood Street Walkers' turf was Wood Street between 48th and 49th. They got along good with the Cherry Busters and the Muskadoodlers. There rivals were the Seeley Boys and the Polish Assasins. They put on the best fireworks display in the neighborhood. The Wood Street Walkers still have a gatherings like a Social Club where they have family get togethers and picnics.
69st Loafers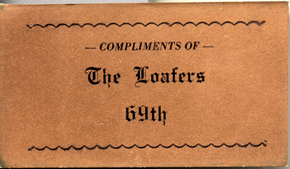 69ST LOAFERS: 69th Street Loafers

67th STREET BOYS: Italian

AVALON PARK DUKES: 1959

White gang numbering around 25.

GRAND CROSSING LANCERS: 1959

White gang numbering 15.

GRAND CROSSING PARK GANG: 1959

White gang numbering 25.

80th AND HALSTED: 1960

White gang in Auburn Gresham numbering 50.

CRIMINAL GROUP: 1961

Auburn Gresham White gang numbering 7.

83RD AND EMERALD: 1962

White Auburn Gresham gang numbering 18.

77TH AND GREEN STREET: 1962

White Auburn Gresham gang numbering 15.

CHATHAM FALCONS: 1962

White gang numbering 16.

BEHIND THE FACTORY GANG: West Englewood 1950s

On 69th ST. between Damen and Western there are railroad tracks. The factory was just north of 69th and they hung out between the tracks and the factory.

JIVAROS (headhunters): 69th-Laflin, 1950s

DUKES OF HERMITAGE.

Hung around Hermitage Park and 59th and Hermitage.
They hung at Sawyer school at 53rd and Sawyer.

WHIPPLE STREET BOYS

ARTESIAN COBRAS:

(a greaser gang who evolved from the 59 Street Supreme rulers, and most of whom were weightlifting fanatics)
The Settlement
Unicorn Patch courtsey of Meilani Marischino of The Facebook page: Back of the Yards - Chicago. A special thanks to Meilani and the Back of the Yards - Chicago - group.
THE SETTLEMENT (1966-1968)

Most of the Settlement guys were Unicorns like Al Cool, Lil Al Cool, Memo, Pinon, and others.

UNICORNS: 50s

They were a gang around the Settlement from the 1950s through the late 70s. Pee Wee Unicorns hung out at Throop Park aka Monkee Park. he older unicorns had the letter U on an all black sweater, same with the JRS, midget's had a emblem of a U with two unicorns facing each other on long sides of the U. midgets had two different sweaters one black with white stripes, the other was party sweater white with black stripes. They got along well with the Cool Gents. Some of the Unicorns had cousins who were Saints.

GREEKS and STIFFETTOS:

1950 girl gangs in the Gage Park area of 55th and Western.

WHITEY'S BOYS GANG:

Harrison High School greaser gang. In 1967, their leader (named Whitey) was shot and killed by the leader of the Villa Lobos after a dance at the Gads Hill Center.

LATIN COUNTS:

Started out as a White gang, 1961, mainly Polish, in the area of 23rd and Whipple, the Harrison High School area. The Latin Counts that hung out 24th & Washtinaw were Italian.

LATIN NOBLES: 1950s

Latin Nobles" on Division & Kedzie back in the 50's were mostly Italian with some Jews.

MADISON-CRAWFORD: 50s and 60s

Madison and Pulaski Irish gang that held that corner in the 50s and early 60s

WHITE KNIGHTS: 80s

Marquette Park. They were the Uptown Rebels of the South Side.

BROTHERHOOD: 60's

Brotherhood hung around Canaryville during the late 60s and early 70s.

BISHOP BOYS: 60s

Bishop Boys hung around Hamline School 48th s Bishop in the early 60s.

RASCALs: 60's

Rascals hung around Davis Square Park they wore black and red sweaters. There first clubhouse, a rented, street level apt. on 45th & Wood St. There second one was on up on Marshfield.

LATIN KAPRI'S: 60's Lady Rascals

HAWAIIAN 37TH: 60s

Hawaiian 37th they hung around 37th Wallace in Bridgeport. They got their name from the cops who busted them one night for under age drinking out in the open. The cops asked them if they thought they were in Hawaii or something.

TOMMY MORE BOYS: 60s

Tommy More Boys were a bunch of Dupers that hung around St Thomas More School, 81st s California they were know for fighting a lot with Greaser Gangs.

RAVENS: 60s

Ravens hung around 47th s Honore in the early 60s most of them were polish and they fought with the Saints from Davis Square Park.

51st BOYS: 60s

51st Boys they hung around 51st Racine in the early 60s and were known for jumping Mexicans walking through their neighborhood.

SABRES SAC: 1950s

Hung out at 52nd & Damen.

SETTLERS SAC: 60s

Right across from Guardian Angel on 45th and Laflin.

SHIEKS SAC: 60s

From 47th & Justine.

UNIQUES: 60s

The Uniques was a mexican gang that hung around the Mexico City Restaurant on 46th Ashland they had black & gray sweaters with Uniques written on the back. They fought with the white gangs such as The Subnormals from Canaryville.

26TH Street Jokers: 60s

JOKERS (mostly non-hispanic) - South Lawndale

CASANOVAS: 60s

The Casanova,s were from Bridgeport in the early 60s they wore black & dark gold sweaters.

RIVER RATS: 60s

The River Rats was a gang in Bridgeport that hung around close to The Shack.

HOUSE OF LORDS: 60s

The House Of Lords from Brighten Park.

PASTEUR PARK BOYS: 60s

Pasteur Park Boys 58th Kostner.

MARAUDERS: 60s

The Marauders were from 26th Albany their rivals were The Latin Kings.

SPANISH CHANCELLORS: 60s

In Bridgeport in the early 60s, 28th Canal St was known as the island, a Mexican gang called Spanish Chancellors wore black & dark blue sweaters hung out there. Their was also a girls gang The Chantels who hung with them and wore the same color sweaters with Chantels written on the back. They were surrounded and fought with the italian gangs & fought with the Settlement. Their allies were The Chinatown Dragons.

LAFLIN LORDS:

Colors: black and blue.

BISHOP BOYS

RAMPANETTES: 60s

Rampanettes was the sister club to The Rampants from 18th st.

SOUTHSIDE HEAD, INC

The Heads on The Southside were pretty big for a time. They had a few strong hoods themselves. They were on 55thst -59th-63rd-33rd--83rd-79th and Kelly Park. Eventually, most of the Hoods turned Pope?s. Their colors were black white. Their cross had 5 slashes, 1 on each side top and bottom, one on top of the cross. There were Stone Heads and Party Heads.

DIABLO'S: 60's

79th and Ashland; some of the members were Marty F. Lee J. Slinky & Weasel. They wore jackets with the emblem of a hot rod car and Diablos on the back. There rivals at times were the Loafers.

KOOL GENTS:

a.k.a. COOL GENTS, 45th Street Back of the Yards. Cool Gents were like brothers and cousins of The Unicorns , they were from 45th and Laflin. Their sweaters were Black with deep purple stripes ,with an emblem.

SPARTANS: 48th & Hermitage

Ex-Spartan had this to say: See Spartans
LIL SYNDICATE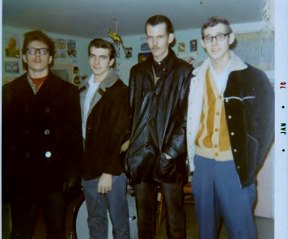 Back to the Yards, sixties. Photo of Lil Sydicate member on the left. Rest were friends who helped out. The Lil Syndicate were friends with the Saints, Cornell Dukes, and Unicorns & Kool Gents from the Setttlement
The Settlment by an ex-Aristocrat
During the 50s & 60s different clubs hung out in there. The Settlers ran the place and the other clubs were the Unicorns, Son's of 45th & the Cool Gents. Some of the Saints from Davis Square hung out in there too. It was located on 45th s McDowall right off Ashland Ave a couple of blocks from Peoples Show. The back part of the building became a daycare center called Guardian Angels. The cobblestone street was still there in the 60s. I lived on the other side of 47th st until I was 16 and then moved around Archer Park. Not to many people from my side of 47th st went to the Settlement. I was in there one time invited by one of the club members. I went because I was curious to see what was in there. They had pool tables a gym & a wreck room. The place was jam packed and I got a lot of dirty looks so I took a quick tour and beat feet. The clubs from the Settlement & the other side of 47th st. did not get along for a long time.
CORNELL DUKES: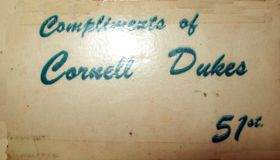 Were a pretty large gang from the 1968 to mid 70's. Their turf was 4700 South to 5100 South, and Ashland west to the Railroad tracks at 2200 west. The Cornell Dukes came after the Muskadoodlers. The Dukes wore gray and black sweaters.
Pilsen Gangs 1950-1970s
18th Street Gangs: 1950's had the HOYNE WANDERERS, mostly non-hispanic, but like many Pilsen gangs they were intially mixed like the neighborhood.
18th Street 1960s-1970s: ARCONS, SEMANONS, RAMPANTS, SPARTANS, LATIN COUNTS, COULTER COUNTS, ESQUIRES, VIALOBOS, SATIN DISCIPLES, CHANCELLORS, CRAZY TONY GONZALES' gang, and the MORGAN DEUCES.
26th Street: the Latin Kings.
Coulter Count's colors were Black & Blue were from Coulter st and Damen ave which in 68 changed to Latin kings.
18th st: Morgan Deuces Black & Gray , Bishops Black & Brown , Ambrose Black & Blue, Disciples Black & Yellow, Latin Counts Black & Red, SPARTANS Gray & Blue, Via Lobes Black & Green. See Morgan Deuces!
Davis Square Saints Midgets Sweater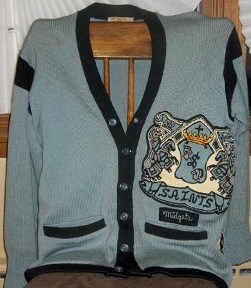 DAVIS SQUARE SAINTS:

Back of the Yards starting around 1964: The Saints were at Davis Square in the Back of the Yards, 43rd to 47th/Bishop to Wood, 45th and Paulina; 47th and Hermitage. The Saints started out Polish and eventually became a Mexican gang. Their leader was called Rabbi probably the toughest dude around Davis Square Park. That's when most of the fights were fist fights. In the mid 1980s, there were still quite a few Polish in the gang. Around 1969 or 1970, The Saints and the Dukes were allies against the Sherman Park Gaylords. When the Saint's first started out they were fighting it out with the Ravens who were mostly Polish too. An Aristocrat was at a St. Joes dance when a fight broke out between the Saint's & Cherry Busters. There was chairs flying all over the place. The only common enemy back then were the Black Clubs. The clubs in that neighborhood were always fighting each other on & off. Logo: Lions head with a crown.

TAYLOR AND OAKLEY SAINTS:

In 1963, the Roman Saints were convicted for arson, which caused $250,000 worth of damage to the Chicago Science and Industry Museum. In that same incident, a White Roman Saint was convicted of murder for a stabbing death at the museum. In 1963, the Roman Saints had a clubhouse on the corner of Taylor and Oakley Streets.
NORTH SHORE GREASERS a.k.a PRATT AND SHERIDAN GREASE:

Hung out in Rogers Park at Pratt and Sheridan. They were friendly with the Howard Street Greasers and the Thorndale Jagoffs. Two of their popular hangouts were the Crystal Cue and Howard and Paulina Billards.
A North Shore Greaser had this to say: I was just a kid hanging out at Sliver Sues pinball parlor on Farwell & Clark street in the late 70"s, i remember all the gang bangers that use to hang out there, lots of popes, Simon city royals, Latin kings, I remember all the fights, they would be like brothers to me because I was a pinball wizard and win games for them, so they wouldn't be kicked out of Silver Sues. guys like Tony, red, Timmy, Frenchy, ace, Twat, Ids, etc. They always smelled like peppermint schnapps, or pot, even though I was a jock they were always cool to me, respected for helping them in a sense, felt safe around them and in the neighborhood, they were all cool guys, like you see in the gang movies. These guys were real though. Me and my sister were leaving Silver Sue's one the night Arvella Thomas was murdered. She was a friend of ours and asked us for money to get home, but we didn?t have any. Next morning we went to Silver Sue?s and found out she was killed. So sad she was so nice. I was just 11 years old, but felt older hanging around all those older people.
The gangs from Amundsen were different because just about everyone had a mutual friend or a friend period in another gang. A prime example would be Waters Park on Campbell and Wilson. On any summer night you could easily see 100 plus hanging out including guys from "Grubb"(Welles Park), TJO, Blacktop (St. Mathias), Maniac Drifters, Unknowns, PVP, and a host of others. Gangs were respected for their "Truce Ability". Waters Park is now a forest.
DRAKERS: 1960s

aka Harding Drakers were a bunch of mostly Italian guys that hung on Harding between Division & Chicago, and a little playlot on Pulaski. They didn't really hang at the playlot on Division but they were an offshoot of the Drakers that hung at Grand Park at Drake & Grand. Drakes were greaser gangs in the area of Lawndale and Altgeld prior to the Taylor Jousters. Their rival was the Septors.They hung out around the 700 block of Draker, but as years went by they started hanging on harding thats when they became the harding-drakers.

THE PATCH

BLACKTOP

VIENNA BOYS

TAU GAMMS:

A huge group of guys mostly from Senn HS known as Tau Gamms gathered around Randl's Restaurant at Devon and california Aves nearly every night between 1958-61. A few of the names associated with the crowd were Danny Lonnegan and Freddy Glickstein. Following Tau Gamma's departure, various groups from Mather HS began to locate at the corner from '63 -66. The primary enemies were the Monks from Amundsen and Turf and TJO from Senn High School. Comments by classmates members and newspaper accounts of the time corroborate the existance of group at Devon and California.

SAINTS: 1963-64 - Winthrop Street, Senn H.S.

DURELL'S: 1963-64 - hung out around the Goudy schoolyard

KENMORE BOYS

C-NOTES

INSANE POPES

PALMER BOYS

(Palmer & Sacramento)

BLACKHAWK PARK ASSASSINS

ALMIGHTY GAYLORDS

MAGNIFICENTS: 1950s Lane Tech H. S.

ICOs

ARMOUR HITMEN

DEVON BOYS

Dayton Street Dragons: Italian

Dayton Street gang

LEAD PIPE GANG: Waller H.S.

Mohawks:

On Mahawk Street.

BLACK PANTHERS: 1952-1959

Black Panthers that roamed from Montrose to Foster, Damon Ave to the beach and were the type you didn't want your daughter's around but they had cool club jackets with large panthers on the back. This gang pre-dates California's Black Panthers by a decade or so.

SHERRY-BARRY: early 1960s

GREENVIEW BOYS

Greenview Boys are active. Still got originals in play and new guys. They aint ever gonna get rid of us. Greenview and Potomac the Holy City. Got sets also out in the suburbs and Indiana.
Colors: Green and Gold or Green and Yellow Affiliation: Renengade
Photos of Greenview Boys

WISLA S.A.C: 50s and 60s

Polish: their clubhouse was on Ashland just North of Division on the West side of the street.

SIMON CITY:

The original Simon City was started by Andy Bledron, who died serving in Vietnam. They hung out at Almira Simons Park in the 1960s. In 1965, Simon City fought against their rival - the Septers. In one incident, leader of the Septers was shot. Another early rival was the CNotes.

CICERO COBRAS: 1964

Operated on the West Side, Congress and Cicero, on the West Side of Cicero Avenue. Their rivals were: Egyptian Cobras, War Lords, Casa Novas, Racketeers, and the Independents, all which were Black gangs.

CICERO NOBLE KNIGHTS

CICERO ESQUIRES: 1967-1972

They went on to found the 12th Street Players. The Esquires were an all white, mostly Czechloslovakian. They had meetings at Circle Park, on 23rd and Oak Park Ave. Colors: green and black.

BERWYN GREASERS: 80s

Rival 2-2 Boys. Killed a 2-2 Boy 5400 Laramie Street.

DEFIANT ONES

GUIDO-YONDER GANG: 1962-1965

Known for robberies, home invasion, and torture of North Shore residents during that time period.
Marquette Park Greasers
The Dukes were from 59th Hermitage, I believe. You may have had some Loafers from 69th & Hermitage. The Wino's, 59th Damen, The Cool Gents, 45th Ashland, The Muskadoodler's from Cornell Park, Sawyer, Nightingale, Latin Lords, Oakley Park, 59th St Supreme Rulers, Burger King from 55th Justine, and a number of others I can't recall anymore. I went to Hubbard, but hung around Marquette Park (greasers) and Sawyer circa 1967-1973. And yes, the gangs at that time were much more a load than their imposters and wannabee's years later. The guys I hung around with then didn't graffiti like today, use guns, we rumbled. And were bad enough that most of the others left us alone or found out why. Many gangs then did use Graffiti, guns, sweaters, but we never needed to do that and they pretty much left us alone. But on the few times we had a problem, we just could overcome them by numbers of really bad dudes, and usually only needed a one time deal. I hope any insight I gave helps. I still have a wealth of memories of the time. Just sorry to see so many of the guys I hung with never made it past 50 'tho.
Pullman Gangs
BUMTOWN GENTS: 1960s

Kensington St.

PULLMAN HACKERS: 1960s

The Pullman Hackers were for real, they were some real mean dudes, they didn't even get along with the south Pullman guys. They were from north Pullman. North Pullman went from 103rd to about 107th, then the Pullman Standard factories, than south Pullman went from 111th to 115th both just east of Cottage Grove.

BURNSIDE BUMS: Bums Burnside Bums video Burnside Bums Video

From 87th Street to 94th Street - between Cottage Grove on the west and Stoney Island on the east. The White Triangle. The far southside of Chicago. Their rivals were the Latin Kings, Cobras, Bishops, and the Counts.

PULLMAN POOR BOYS

PULLMAN FLYERS

ULTRA PALS: 50's:

A primarily Italian group that roamed Cottage Grove between 87th and 95th streets and west. Then when the Burnside Bums took over everything moved to the eastside of Cottage Grove in the early 60's.

91ST BOYS:

91st/Brandon, South Chicago "Purple City" aka "Fallen Soldiers".
95th STREET GENTS: 60's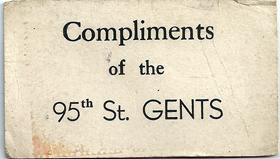 The 95th street Gents were white, mostly from the Beverly Hills area west. Many went to Mendel CHS on 111th in Roseland.
Aces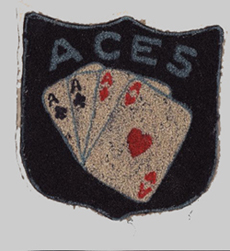 Burnside Bums Business card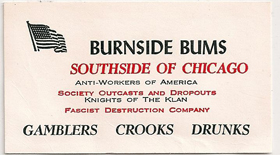 Old School Black Gangs
The Black gangs listed were very street active from the 1950s through the early 80s. These gangs would eventually merge making up the Main 21 and Main 25, the Black P Stone (a.k.a. Blackstone Rangers and El Rukins) and the Black Gangster Disciple Nations (a.k.a Growth and Development and 21st Century), respectively. Some of the West Side gangs merged with the Vice Lords.

IMPERIAL CHAPLAINS: 1956s

Imperial CHAPLAINS Juniors and the Imperial Chaplian Seniors were located on Homan and 16th Streets. Their members were credited for starting the Vice Lords and the Imperial Knights. Most of the Black Filmore District 1950 gangs were suppose to be offshoots of either the CHAPLAINS or the Egyptian Cobras. Also, they started the Junior and Senior CHAPLAINS, numbering 30 and 30 Seniors, respectively.

CAMMANCHES: 1961

North Lawndale: numbering around 40.

ROYAL GENTS: 1961

North Lawndale: numbering around 35.

KEDZIE LORDS: 1962

North Lawndale: numbering around 45.

ALBANY LORDS: 1962

North Lawndale: numbering around 30.

SUPREME GANGSTERS: 1960s

Englewood. Larry Hoover's first gang prior to the merger and the formation of the Black Gangster Disciples. Their rivals were the Blackstone Rangers, Jive Five gang, and the Eastside Disciples. Later on in gang history, a merger between the Disciple sets and the Supreme Gangsters produced the Main 25, otherwise, known as the Black Gangster Disciples.

JIVE FIVE: late 60s, early 70s

They took their name from a legendary Chicago Jazz group - the Jive Five. Their turf was on the West Side, west of Cicero at Congress parkway. They fought the Supreme Gangsters, Mad Black Souls, and other local gangs.

ENGLEWOOD DISCIPLES: 1958s

A.K.A. Eastside Disciples, their turf was around Halsted and 63rd Streets, and their leader was David Barksdale. There rivals were the Supreme Gangsters and the Blackstone Rangers. Colors: black berets.
Disciple chant: HE WHO WALKS THIS LAND OF DANGER BEST NOT BE A BLACKSTONE RANGER, WALK WITH CAUTION WALK WITH FEAR MIGHTY DISCIPLES ALL UP IN HERE.

BLACKSTONE RANGERS: 1958

Started in Woodlawn by Eugene "Bull" Hairston around 63rd and Blackstone. This was Jefferie Fort's original gang which ended up growing into the largest gang in the City of Chicago, making Jeff Fort a legendary leader. One legendary item to note: the old Blackstone Rangers escorted Martin Luther King while marching through Marquette Park. Colors: red berets. The Blackstone Rangers also had a presence in the Uptown area: Winthrop Avenue.
Blackstone Ranger saying: "Look out stranger.....Here lurks danger......if you're not a Blackstone Ranger!"
73rd and May: Black P Stone Speaks Out video

CLOVERS: 1951-1956

West Side Social Club and singing group - Clevertones. This social eventually evolved into the Vice Lords.

VICE LORDS: 1950's

Vice Lords Leader: Jim Allen Speaks Out

KING CLOVERS: 1957

Filmore District - rivals Egyptian Cobra's.

EGYPTIAN COBRA'S: 1950s

Filmore District - West Side. The oldest Black West Side gang in Chicago. Their original hang out was Bryant School on West 13th Street and Kedvale, and Franklin Park. Their rivals were: Vice Lords (Douglas BLVD and Springfield Avenues), Spanish Counts (Filmore and Springfield Avenues), Imperial Apaches (Cha Cha Girls) (Douglas BLVD and St. Louis Avenue), and the Imperial CHAPLAINS (Homan and 16th Streets). Roosevelt Road was also the place for the Egyptian Corbas, located around Kedzie, California and Roosevelt.

IMPERIAL ROMAN COBRA'S" Mid 60s

Their turf was on Keeler, South of the Congress Expressway. They boasted 600 members. There rivals were the other Black West Side gangs, the Cicero Cobra's, and the Spanish Cobra's. The gang consisted of Pee Wees, Juniors, Seniors, and Royal Imperial cobra's who were in their late 20s.

COBRA STONES: Late 1960s

Their turf was Cabrini Green. Their main rival was the Gangster Disciples. The Mickey cobras considered themselves part of the Main 21 - Black P Stone Nation.
Their turf was Seward Park, Elm and Orleans Streets.

VENETIAN LORDS: Mid 60's

Wendell Phillips High School. Rivals Del Vikings.

DEL VIKINGS: mid 60's

They shot a member of the Venetian Lords in 1966 at Phillips H.S. Part of the Black Gangster Disciple Nation. Truf: Stateway Gardens.

AFRICAN SNIPER GANGSTERS: late 1960s

Their turf was the Cabrini Green housing project on the North Side. Their rivals were other Black gangs and the Harrison Gents. They eventually became Black Gangster Disciples.

DOUBLE SIX KINGS: 1960s

69th Street and Normal Avenue on the South Side. In 1969 they turned into a Blackstone Rangers sets.

SIX TREYS: 1960s

Their turf was on the west side of 63rd Street and Ashland Avenue. They eventually became Disciples.

SATAN LOVERS: 1960s

Their turf was east of 63rd Street and Ashland Avenue, Ogden Park. Their main rival was the Six Treys. The Satan Lovers would eventually become Blackstone Rangers.

DICTATORS: 60s

Ogden Park area gang whose main rival was the Satan Lovers.

MAD BLACK SOULS: early 70s

Their turf was Pulaski and Congress Parkway. Their rivals were the Jive Five and the Four Corner Hustlers. Turf: Madison and Sacramento, 140 South Albany, WIlcox and Sacramento, Jackson and Pulaski, 4000 West Wilcox.

CICERO STREET TRAVELERS: 70s

ROMAN SAINTS of Douglas Park: 70s

a.k.a Black Saints. The Roman Saints of Douglas Park boasts 700 to 800 members, from ages 9 to 25 years old, in a 1970 Chicago Tribune article. Their turf was between Albany and Foyler Streets.
Their main enemies were the Cicero Vice Lords and the Casanova Cobra Stones. Many battles were fought on the West Side between these three gangs that the Lawndale Community called for a truce and had each gang come up with a treaty.

SOUL BROTHERS: 60s 70s

Odgen and Trumbull area: rivals of the Roman Saints. June 13, 1971, five Soul Brothers were walking in the 1900 South Trumbull when some Roman Saints opened fire on them hitting all five.

GOON SQUAD of Douglas Park: 60's70s

Part of the Gangster Disciples. A Douglas Park gang consisting of members from the age of 11 to 18 years old. Bitter rivals of the Vice Lords. In 1969, in fight between the two gangs, a Nun - Sister Haas - was killed by a stray bullet.

KENTS or STONE KENTS:

active area: 21st to Cermak/California to Marshall BLVD., 2100 South Marshall BLVD., 2800 South 21st Street.

JEFFERY MANOR DISCIPLES

LON CITY DISCIPLES:

Active area: Avalon Park - 1232 East 83rd; 1023 East 82nd Street.

MORROCAN TRIBE:

Active area: 39th to 47th/Cottage Grove to Lake Michigan; 900 East 47th Street.

FOUR CORNER HUSTLERS: 1972

Started in the Filmore District by a King Freddy, the Four Corner Hustlers branched out to 35th Street and Michigan Avenue. Their main rival was the Vice Lords. Later on the Four Corner Hustlers would merge with the Vice Lords and become VL 4 CH.

BLACK ASSASSINS: late 60s, early 70s

Waller High School/Lincoln Park area/Cabrini Green. Their rivals were the Young Lords, Blackstone Rangers, Deuces Wild, and the Cobra Stones.

DEUCES WILD: late 60s, early 70s

Their turf was Cabrini Green. Their rivals were the Cobra Stones.

MAD LADS: 1969

They were around 72nd Street and Racine Avenue, not to be confused with the Mad Lads - a White gang from Gage Park High School.

MUSCALEROS: 1959

Their turf was Wolcox Street and Pulaski Avenue.

SATAN HELPERS: 1959

Madison and Kedzie Avenues.

IMPERIAL KNIGHTS: 1959

West Town: numbering 25.
Their turf was Homan Street and Douglas BLVD.

SOUL KINGS: 1970s

A.k.a Mad Black Souls and Black Souls. They had sets at Maxwell Street and Halsted Avenue, and Cabrini Green, Hermitage Manor CHA (1700 West Lake Street), and had a presense at Cooley High School. They were once busted for stealing a WWI water-cooled machine gun. Their rivals were Black P Stones, Vice Lords, Jive Fives, and numerous other West Side gangs.

SAXON'S: 60's

Black: 59th and Throop area.

VAMPIRES: 1960

Near North Side: numbering: Seniors 30, Midgets 30.

BRAVES: 1960

Near North Side: Senior Braves numbering 45; Junior Braves numbering 26.

DEVILS DISCIPLES: 60s

63rd and Ashland area. They fought against the Gaylords at 55th and Ashland and the Satan Lovers. They eventually became Gangster Disciples.

STIMULATORS: 1963

Near North Side: numbering 19.

ENGLEWOOD VALIANT GENTS: 1960

Seniors numbered 30; Juniors numbered 35.

ENGLEWOOD SAXTONS: 1963

They numbered around 25.

ARMOUR SQUARE EXECUTIVES: 1959

Numbers around 40.

ARMOUR SQUARE REBELS: 1961

Black gang including: Senior Rebels numbering 25, Junior Rebels numbering 20.

GRAND BLVD VANGUARDS: 1958

Numbered around 25.

GRAND BLVD DEMONS: 1958

Numbers around 22.

OAKLAND RAVENS: 1962

Numbers around 20.

OAKLAND NOBLES: 1959

Includes: Senior Nobles numbering 30, Junior Nobles numbering 30, and Midget Nobles numbering 40.

GRAND CROSSING COMMANDOS: 1962

numbering 18.

ROSELAND JETS: 1961

Black gang numbering around 20.

SUPREME BARONS: 1970

Burnside: rivals Gangster Disciples

WARLORD RANGERS: 70s

Kenwood area - Hyde Park

444's: 70s

Kenwood area - Hyde Park

HELEN MACK GANG: 50s

Busted for selling Herion to G-Men in 1958.

BASEMENT ASSASSINS: Marquette Park

SEVEN DEUCES: Marquette Park

They are Gangster Disciples from 72st west of Marquette Park.
Satan Lovers by Freddie C.
There was also a branch of the Satan Lovers in Cabrini Green, mostly around 1000 block on Larrabee and also 1100 block on Cleveland. As you said they were under the Blackstone umbrella. I remember once a Satan Lover got shot be mistake by a Duece. The story in the Sun Times said Satin Lovers. THAT WAS SO FUNNY!!! The Satan Lovers were a Good Gang. There wasn't any attacking civilians, robbing civilians, or scaring civilians. They were more of a protector on our block. They kept everything in check. They regulated, in other words, if others wanted to come into our area with some BS they soon found out they were in Satan Lovers territory. Satan Lovers were not too cool with the Stones (or was it the Cobra Stones) in that building near Seward Park. That was so long ago, but they did get along with the Deuces Wild, and like I said they were a part of the stones at least the ones on the South Side. I can remember one night seeing what looked like a couple hundred guys chillin between 1017 Larrabee and at 502 Oak. I saw someone I knew. I asked, ?what's goin on?? His answer was, ?Satan Lovers!? They were sharp dressers with well trimmed fros, went to Waller and Cooley in the late 60s Early 70s. LOVERS RUN IT!!!
My big brother was deep off in it. I remember always thinking these guys are different. They were so cool. They had all the ladies and everybody gave them respect. I always wanted to be one but he wouldn't let me.
Jeff Fort - Teacher Speaks Out
Pitchfork Gangster Disciple Symbol
The pitchforks represent oppression!!!! In a matter of speaking they feel like they already live in hell without a choice! Using what they believe GOD/ and or SATAN left them to fight oppression and "come up" out of it! I do not remember the exact "literature" from the GD book of Knowledge, but David barksdale taught to use the "pitchforks" as a tool NOT a weapon to OVERCOME oppression! and find a better life! VERY anti-government, but sad to say on some levels I can relate! They get a lot of there "lit" from the poet that did "Dante's Inferno" and his quest out of hell!! The rest is Mason Secresy, & military codes!