HONORING ALL GREASERS FROM USA TO RUSSIA!
Moscow Sharks Jacket Club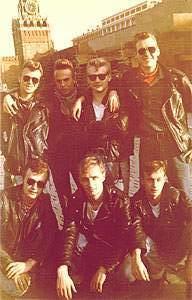 Rockabilly Sharks: Moscow Russia's Stone Greaser gang, was founded in 1993 and is still going strong today. The gang's leader is also in a rockabilly band called the "Great Pretenders", and recently has written a song called "Greasers bop.
The Sharks all share their passion for Rockabilly music, and cover each other's backs when they attend Rockabilly Concerts.
With a lot of emigrants from Arabean and Asian countries entering Russia and causing problems, it looks like the formation of "Jacket Clubs" is becoming a reality like it was in the United States in the 1950s and 1960s.
Moscow Sharks gang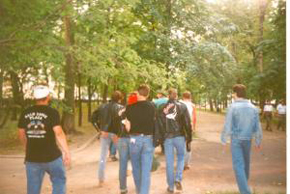 Russian Sharks hanging out in their park in Moscow Russia.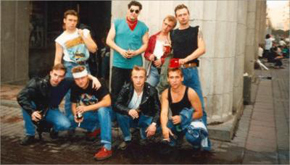 Russian Sharks in downtown Moscow Russia.
California Ravens Greaser Gang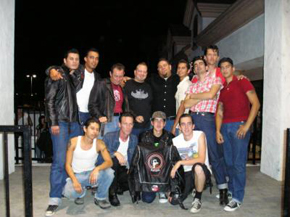 Rockabilly Ravens: Surprised I'm still alive myself. Here is a picture of the boys. We don't gang bang any longer, but are now back to what we set out to be, A social club. We now solve issues a smarter way. Anyway, we are located in Glen Avon, California about 50 miles outside Los Angeles. A small white lower class town that is slowly being over run with illegals. We started up in 1984. We follow a strict code and style of the 1950's. The greaser population in California is beyond your comprehention.
California Ravens Greaser Gang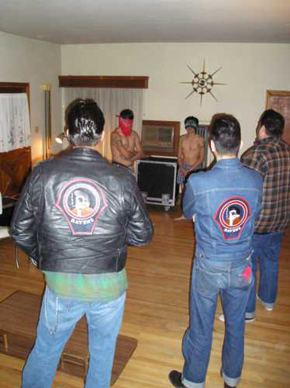 Los Angeles Insomniax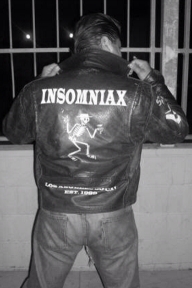 Freeway Ricky Ross
Connection between Freeway Ricky Ross, the Bush Administration, and Crack Cocaine
Hartford, CT Old School Gangs
MAGNIFICANT 20S: Black gang

They started out the Maginficant 20's and then became 20 LUV. They are still active today.

20 LUV: Offshoot Magnificant 20's

PARKVILLE:

Portuguese gang from the Portuguese section of Frog Hollow.

SAVAGE NOMADS: from New York

GHETTO BROTHERS: from New York

LORDS OF EARL: New Britian CT

HELL RAISERS: Frog Hollow

Wilmington, Delaware gangs Sixties

Spartans

Mighty Midgets

Hornets

Jr.Hornets

Hawks

13th Street Stompers

Titans

Stallions

Rebels

Jacksonville, Florida Gangs Sixties
Rochester, New York Gangs
The biggest Italian gang in Rochester back then ,were talking late 50's early 60's was a gang called -the skinny's gang because they all hung around a place called skinny's clam house. The Puerto Rican gang was the Chico's, and the largest black gang back then was the King Cobras. They were fighting all the time up here. They were always in the newspaper too. There were also the V-8's, and the Jets - the name taken from West Side Story. Also many smaller gangs back then all over Rochester - the white gangs were the ave d boys the 39 Boys -Ozzie's Pizza. The black gangs there were the Spartans also the Gaylords and the Upsetters -they were all fighting each other at one time or another.
Bird Rock Bandits a.k.a. Birdy Bandits:
Bird Cock Nation: A joke of a gang outside of San Diego, CA., made up of spoiled kids who beat up unsuspecting people on the beach, and it took ten of their guys to beat one or two people.
If you want to be listed, please send us the name of your club or gang. Please note: if you are the Bird Rock Bandits from La Jolla, CA, go find some sissie website that will list you because you don't qualify as a gang.
Morgantown West Virgina

SWITCHBLADES: Late 50s to mid 60s.