Bayside West Zombies Gang
To some in Queens, who lived in Corona and Bayside in the fifties and early sixties, the Bayside West Zombies were the toughest gang in New York City. Three of them made the newspapers from the 1960 of a murder that was committed in a Manhasette, Long Island supermarket of a cop. Three were convicted, Robert Moll, William "Red" Stanbridge , and John Closter. They were close friends of the "Corona Dukes" after a 1955 rumble on 32nd Avenue in Bayside. The Zombies hung out in an alley located on 32nd.Ave and 200 st. in Bayside. The leaders name was John F, a very feared leader thoughout New York. The Zombies were a mixed Gang of Italian and Irish members.
Zombie Alley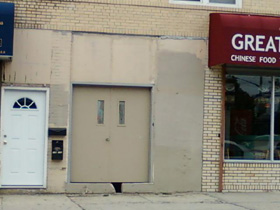 Today, the front of "Zombie Alley" has the front cemented up and a door was added to enter the alley. Back in the time of the West Zombies, Beat Cops could not even walk through the alley for fear of getting beaten up. The alley ran between two rows of store. The area is called the Avenue of 32nd, and to date still has a following of crazies due to it being "Zombie Alley", a rough area to say the least.
Back of "Zombie Alley"