United States Gangs

and

Greaser Clubs
HONORING ALL GREASERS FROM USA TO RUSSIA!
Moscow Sharks Jacket Club

Rockabilly Sharks: Moscow Russia's Stone Greaser gang, was founded in 1993 and is still going strong today. The gang's leader is also in a rockabilly band called the "Great Pretenders", and recently has written a song called "Greasers bop.
The Sharks all share their passion for Rockabilly music, and cover each other's backs when they attend Rockabilly Concerts.
With a lot of emigrants from Arabean and Asian countries entering Russia and causing problems, it looks like the formation of "Jacket Clubs" is becoming a reality like it was in the United States in the 1950s and 1960s.
Moscow Sharks gang

Russian Sharks hanging out in their park in Moscow Russia.

Russian Sharks in downtown Moscow Russia.
California Ravens Greaser Gang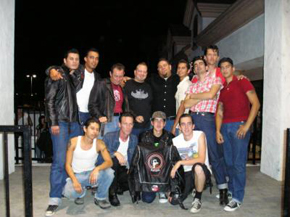 Rockabilly Ravens: Surprised I'm still alive myself. Here is a picture of the boys. We don't gang bang any longer, but are now back to what we set out to be, A social club. We now solve issues a smarter way. Anyway, we are located in Glen Avon, California about 50 miles outside Los Angeles. A small white lower class town that is slowly being over run with illegals. We started up in 1984. We follow a strict code and style of the 1950's. The greaser population in California is beyond your comprehention.
California Ravens Greaser Gang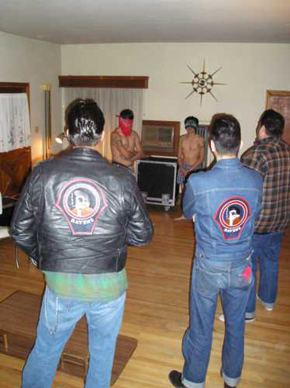 Los Angeles Insomniax

Freeway Ricky Ross
Connection between Freeway Ricky Ross, the Bush Administration, and Crack Cocaine
Hartford, CT Old School Gangs
MAGNIFICANT 20S: Black gang

They started out the Maginficant 20's and then became 20 LUV. They are still active today.

20 LUV: Offshoot Magnificant 20's

PARKVILLE:

Portuguese gang from the Portuguese section of Frog Hollow.

SAVAGE NOMADS: from New York

GHETTO BROTHERS: from New York

LORDS OF EARL: New Britian CT

HELL RAISERS: Frog Hollow

HUSTLERS: 60-70s

EMPORERS: 60's

LATIN LOCOS: 70's Early 80's

RAT PATROL: 60's

FAMILY CONNECTION: Mid-70's

GARDEN STREET RAIDERS: 60's

BOULEVARD CREW: Early 80's

THE AVENUE: 80's

THE ORGANIZATION: 80's

PARK STREET POSSEE: 80's
Wilmington, Delaware gangs Sixties
Spartans

Mighty Midgets

Hornets

Jr.Hornets

Hawks

13th Street Stompers

Titans

Stallions

Rebels
Jacksonville, Florida Gangs Sixties
Boomerangs
Rochester, New York Gangs
The biggest Italian gang in Rochester back then ,were talking late 50's early 60's was a gang called -the skinny's gang because they all hung around a place called skinny's clam house. The Puerto Rican gang was the Chico's, and the largest black gang back then was the King Cobras. They were fighting all the time up here. They were always in the newspaper too. There were also the V-8's, and the Jets - the name taken from West Side Story. Also many smaller gangs back then all over Rochester - the white gangs were the ave d boys the 39 Boys -Ozzie's Pizza. The black gangs there were the Spartans also the Gaylords and the Upsetters -they were all fighting each other at one time or another.
Bird Rock Bandits a.k.a. Birdy Bandits:
Bird Cock Nation: A joke of a gang outside of San Diego, CA., made up of spoiled kids who beat up unsuspecting people on the beach, and it took ten of their guys to beat one or two people.
If you want to be listed, please send us the name of your club or gang. Please note: if you are the Bird Rock Bandits from La Jolla, CA, go find some sissie website that will list you because you don't qualify as a gang.
Morgantown West Virgina
SWITCHBLADES: Late 50s to mid 60s.
Houston Gangs
Houston was by no means like Chicago, New York or LA. But it did have its share of gangs. Most of the turf or altercations were settled by fist fights with the occasional knife or chain being pulled. Guns really didn't come into play on a major scale until the late 80's. The inner city was where most of these gangs were based; they were blue collar areas with the factories and neighborhood bars to go with it. These gangs were home grown and created their own style of dress. There was gangs like First Ward Cobras, 6th Ward Red Devils who were army jackets and red bandannas. In the Heights area was the Woidland Boys with Blue Dickie jackets and White Letters. The Heights Knights we're also from this area but controlled tan other section. There was the Gonzos from Montie Beach, The West End had Bad CO and in Cottage Grove the skull and bones adorned by the crown meant danger to outsiders, Black pocket T shirts and jeans signified The Kungsmen controlled this area. These areas were mostly barrio gangs on the West Side. On the East side there was Magnolias' Black Dragons and Second Ward, also BDH gang which stood for Barrio Denver Harbor. The near Northside had gangs like the courts, Playboys, Pipers, Thieves, street Fighters and El Ryon. Most of these gangs fought with each other but for example was facing a larger gang would Band together to fight the opposing side. Neighborhood football games were common and usually cases of beer and pride were on the line. Every gang had their own style of dress and colors back then. This was from around 77" to the early 90's. Times were a little simpler then and the inner city had not be gentrified yet. Now we got yuppies and dogs everywhere. The mom and pop stores are disappearing, along with everything else.
FIRST WARD COBRA'S

6TH WARD RED DEVILS

who wore army jackets and red bandannas.

WOIDLAND BOYS

The Heights area. Wore blue dickies with white letters.

HEIGHTS KNIGHTS

Controlled the other side of the Heights.

GONZO

The Heights are.

MONTIE BEACH

The Heights area.

BAD COMPANY

The West End.

COTTAGE GROVE

The West End.

KINGSMEN

The West End. Symbol: Skull and Bones with a Crown, which signified The Kingsmen controlled this area.

MAGNOLIA'S

East Side.

BLACK DRAGONS

East Side.

SECOND WARD

East Side.

BARRIO DENVER HARBOR

East Side. BHD gang.

THE COURTS

Near North side.

PLAYBOYS

Near North Side.

PIPERS

Near North Side.

THIEVES

Near North Side.

STREET FIGHTERS

Near North Side.

EL RYON

Near North Side.
Dallas Greaser Gangs 1950's:
EXALL DUKES: East Dallas

There turf was between Live Oak Street and North Haskell Avenue on the North, and Elm and Main Streets on the South. Basically, the Baylor Medical Center area.

PROJECT PROWLERS: West Dallas

LAKEWOOD RATS: Northeast Dallas

FROG TOWNERS: Southwest Dallas
HONORING ALL GREASERS FROM USA!
Philadelphia
SEVEN OH (7-0): 1965 to 1972:

70th and Dicks Avenue. Some of the gang: Flick, Duke, Buckey, Sweet, Eddie D, Dave P, Joe A, and Johno A. Our hangouts were Frank and Jean's Hoagie Shop and Finnegan's Playground Baseballfields.

10TH STREET GANG: 1965

Was a Philly White that made the news when a boy named Elmer Rush was mistaken for one of it's members and was stabbed to death by a rival Black gang.

GREEN STREET COUNTS: early 50's

Fairmont Section. There was two separate Green Street Counts gangs, a west and an east, who operated separately.

30TH STREET: Early 50's

Hung around Fairmont Park. Weapon of choice: zip guns.

TWO-EIGHT: Early 50's

28th Street Black gang.

VALLEY: 60's and 70's/dt>

North Philly Black street gang. Now they are the Valley community organization helping troubled youth.

KENSINGTON BOYS:

They were irish and polish gang from Kensington section of city. They lived in same neighborhood where they filmed Rocky movie. A great story about them attacking punk rockers with bats is told in the book "American Hardcore: a tribal history". Musician Henry Rollins talked about being attacked by them, too. The gang was active till late 1980's.

10th AND OREGON: a.k.a 10th and O

10th and O" crew from South Philly. Italian and Irish gang that has been around since 1960's and are said to be still active today. According to the book "The Last Gangster" by George Anastasia, the gang had shoot outs with Italian mafia and biker gangs in the 1990's. Some members were arrested for multi million dollar drug operation in 1990's. It's also said to be a multi-generation gang with both fathers and sons as members.
Minneapolis, St. Paul
IMPORTERS: 1965

Their main rival was the Agents. The two gangs fought many battles in August of 1965 using bats and chains. Evenually guns came into play as the tension became more violent.

AGENTS: 1965

MALOS: sixties

North High School gang.

MUFFITS: sixties

North High School gang.

PAGANS: sixties

North High School gang.

Baldy's: 1955 - 1975

They were anti-greaser, anti-racist, and dressed more preppy. During their peak period they boasted 1000 members. They have their own facebook page The Minneaspolis Baldies.
The Baldies in the '50s/60s and the Baldies in the '80s are two different gangs, and only the Baldies of the 50's/60's were a greaser gang.
The '50's Baldies had a 1000 members and dressed prep, had short hair and were primarily based on the south side. Very tough group, very active in break ins and other crimes. The leaders of this gang became career criminals. Rivals were the Greasers of North East Mpls.
The Baldies of 80s were formed in 1983 and were a straight edge skin head gang with fewer than 80 members at their peak - primary rivals were rasist skin heads. Dress was dockers and flight jackets - again, not a greaser gang. Neither Baldies gang is currently active.

ANIMALS: 60s

SUPREES: mid-60s

Black gang who Wore wool white and green jackets with black leather sleaves.

TARMEGONS: Sixties

Rivals of the Suprees.

X-BOYS: 1966

Rivals of the Suprees.

PRIMAS: 60's - 1970

Wore gray wool jackets with black leather sleeves. Attended North High School. Had an auxilary gang called the SAMS.

SOUTH SIDE ASSOCIATES: sixties

Wore fedoras and carried canes.
Fontana-Ca
The SAINTS: 1994 Cousin gang the Saints Queens New York:

Our hangouts were Chunky Grinders off Sierra Blvd. and Betty's 50's Diner in Redlands. And basically, ALL of Redlands.
Saginaw, MI
SUGAR BOWL RESTAURANT GANG: 1950s and 60s

14th and Annesley Street. Check out Sugar Bowl history of how a neighborhood soda shop introduced rock-n-roll to the neighborhood. To this East Side Saginaw neighborhood, it was their Arnolds from "Happy Days!" It definitely was the in place to hang out if you went to Holy Rosary School. The Sugar Bowl earned its place in Greaser History. Map of the neighborhood where the Sugar Bowl Restaurant neighborhood map was located.
BLUE DARKNESS GANG: Late 60s and 70s:

Hung out around Brady's Store at Morgan and Avon streets in Saginaw.

FORDNEY PARK GANG: 70s

Group of guys from all over the west side of Saginaw that partied and protected each other. Toughest gang on the West side of Saginaw during that period of time. They had some fights at the Alibi Pool Hall on Bay Road against the guys from the Sandhill. They had a few fights against some members of the Devils Disciples Motor Cycle Club of Saginaw. In one fight two guys got stabbed at a West Side bar.
Some of the notables were: Sniffer, Roach, Pud, and Bird.
Rest In Peace Kenny Ware!
Rest in Peace Hunter!

DELTA THETA PHI: 70s Arthur Hill

Made up of mostly Saginaw Arthur Hill High School teens. They had keggers at the Golden-Glow Ballroom and various parties. The cool Arthur Hill guys kept it together. Later they recruited redneck members from St. Stephens and Douglas MacArthur High Schools, which was their club's downfall. Closed down in 1977.
RIP G-Strek and Chuck Chillout

SAGINAW GANGS: 1982 to Today
The Clicks

7th Street Players, Crazy 8's, Pony Crew, Burt Street, 4th and Kirk a.k.a 4KP, Fourth Street, Sheridan Park, Crime Syndicate, Southside Warriors, Northside Stones, The Posse (Posse Boots), Thug Life, Darkside, Mafia Kings, 6-4, 17th Street Players, M.O.L Black Mafia, Atwater Alley Folks, 2-40 Shorty, Randolph Street, The Symphony, T.G.H, Phelon Fenton Family, No Purpose, Sheridan Park Dogs, Darkside, Sunny Side, 2-7st, Junior Stones, Brother Doggs, Golden Girls, Latino Crips, War Lords.

BURT STREET a.k.a. BURT BOYS:

Colors: Red; Originated on Saginaw's East Side in the numbered streets around the Burt, Cherry and Walnut streets.The Burt Street Crew operates in the neighborhood bounded by Janes, East Genesee, South 14th and Burt streets. Rivals: Six-Four and Sunny Side from the South Side. Burt Street and Sunnyside had a shoot out inside Wiseguys Smokehouse Saloon in 2005.

SIX-FOUR a.k.a PROJECT BOYS:

Colors: Blue; their name came from their members' appreciation for 1964 Impalas. Turf: Daniels Heights housing projects on Saginaw's northeast side.

CLICKS: South 13th and Walnut streets

CRAZY 8's: South 17th and Phoenix Streets

SUNNY SIDE: South Side; Colors: yellow

BLOOMFIELD BOYS

In the neighborhood of Bloomfield BVLD and South Washington Road.
East Lansing, MI
TOWAR GARDENS:

1970s era
Flint, Michigan 1940s
SPARKS: 40's

LOUIES: 40's

3-Ds (Davison [St.] Dirty Dozen)

Irish, Polish, Hillbillies, and Hungarians - Our bible was Irving Shulman's The Amboy Dukes. Clubhouse was a 3-car garage with chairs, sofa, mattresses, beer, sweet wine, cigarettes, Benzedrine; no other drugs. Old cars, gambling, big band dances, drag racing, pre-Little League pick-up baseball games, nearby lakes/reservoir swimming (one drowning each summer), pairing off with bobby sox girls, "rumbles" with Lewis St. Louies or The Sparks (no guns or knives); all waiting, waiting to be old enough for the invasion of Japan...
The Sparks and the Louies were more nicknames than actual gangs. They were neighborhood kids on Flint's east side who worked on cars and ran around together. The bunch I hung with called themselves the ''Dirty Dozen,'' decades before the ridiculous movie of the same name. We were not collectively criminal or of much concern to the police. We drank a little beer and wine, of course, when we could get it; but the only other common drug was benzedrine, or ''bennies.'' Of course we all smoked cigarettes, which were technically illegal for minors, and had to be purchased by adults.
There were no organized turf wars or ''rumbles,'' just an occasional 'clean'' grudge fight. We were just kids during WWII, wearing pieces of military uniforms our older brothers or uncles gave us when they were home on furlough. I think of us as transitional kid gangs between the tougher 1930's variety and the 1950's automobile clubs. If we had any role models other than our servicemen relatives, they were Leon Gorcey's bunch in its various Hollywood incarnations.
FOE - FAMILY OVER EVERYTHING: 2000
Family Over Everything is made up of Southwestern High School white students who hang out together, but watch each other's backs.
West Michigan Gangs
SONS OF SATAN: 1957 South Haven

STAR GANG: 1952 Benton Harbor
Seattle, Washington
CAPITAL HILL GANG: 50s

Turf was on 15th Street. Their leader was James Demile - an original Bruce Lee student.
Lansing, Michigan Gangs
Blockburners

Mount Vernon Boys

Vice Lords

Gangster Disciples

JGM - Just Get Money

Stock Block Killas

North Pine Street area of Lansing.
Southern-CA
ATHENIANS: 50s Hollywood

Greek gang. Mazzola, the leader of a real gang called the Athenians. He as well as his gang was the technical advisors for the movie "Rebel Without a Cause," starring James Dean.

LAZY BOYS Social Club

LITTLE TOKYO - Japanese Greasers, LA

ROOKS: 50s Hollywood High Gang

Hangout: Hollywood BLVD. Hollywood High School 50s gang and car club. They wore leather jackets and motorcycle boots. Their famous member was "Ricky Nelson" who ran with them in his rowdy days of high school.Aall shook up:" how rock-n-roll started>Reference 'All Shook Up:' talks more about Ricky Nelson.
Ferguson, Missouri Gangs
PLAYERS FOR LIFE:
Ferguson Missouri: establish in 1994. Riverview Gardens High School. Lillac Avenue and Shepley Avenue. Their colors were baby blue and white.