United Five Organization | United Fighting Organization
The first official UFO was founded in 1973.
Gaylords, C-Notes, PVP's (counted as one), Jousters, and Chi-West. If memory serves, Chi-West hosted the meeting of the representatives (At location of North and Damon), and had some of their members standing guard in the shadows outside with crossbows. The UFO lasted into the 1980s, and other Greaser gangs joined the UFO, like the White Knights and Hell's Devils. During the 1970s, the UFO was the largest North Side unity formed among greaser gangs at the time. A retired UFO member said, "The United Five Organization was so big that members had to wear white arm bands to identify themselves so that we would not be beating each other up by mistake. The UFO was the largest merger among Northside gangs. We would hit Carnivals, Humbolt Park, koziesko park looking for a specific club that we were all after."

TOP: SPIN, HATTER,ZEKE, HOWIE: BOTTOM; ACE, TZ, GREG.
JULY 1989..."REAL BROTHER HOODS"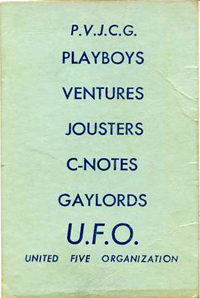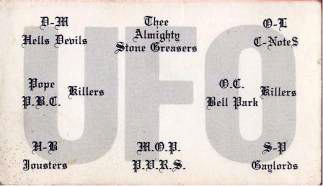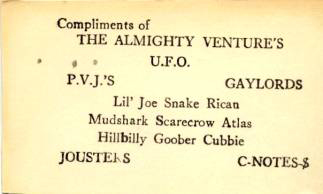 Retired Gaylord had this to say about the UFO: "There were several riots with Gaylord�s and the UFO that included some large gang fights. There was a raid on the Latin Panthers clubhouse with the M/C Gaylord�s and several Lawndale guys, Stacies, Chi-West and the Jousters. This was for revenge for Trier being killed for his sweater. There were times we organized the UFO to fight the Deuces at Lane Tech H.S, but it just was never timed right. The same thing happened at Roosevelt H.S. We went to help the Royals get even with the Latin kings for killing Bimbo and the cops busted that up before we could get started. We would have a hundred guys sneaking down the alley when the cops would fly up, and everyone would take off running. Most of the time we weren't in our hood and we would be looking for the guys we came with, so that way we could make it home. It was always cool to watch various clubs show up for a fight. One time I recall Larkin, Dago, Lil BOB, Professor and Slaughter walking into Lenny�s wearing their sweaters, three major leaders from various clubs showing up for a UFO meeting at Lane. Lenny�s was full with all kinds of various gang sweaters. Guys were wearing sweaters they burned and their nation sweaters over their arms. There was a talk about hitting the Diversity projects with the UFO. I was just 16 but I never forgot that meeting. I thought the Gaylord�s were the greatest. I remember Huntz, Hillbilly, Devil , Squirrel were wearing their sweaters proudly when the Popes came walking up. Chi-West was in the back with ONION, TURPO, RAD, BAMBAM, BABYFACE, SKULL. BURSKI, MICKEY, POSSIUM, HYMIEE, TONYROME, AND A FEW OTHERS THAT I FORGOT THERE NAMES. THEN ALL OF A SUDDEN PALMER STREET GAYLORDS CAME WALKING IN. THESE WERE GUYS I NEVER SEEN BEFORE. Kilbourn park Gaylord�s and Moffat and Campbell Gaylord�s filed in behind us. The Gaylords were always the deepest at any UFO meeting."
Gaylords and Jousters Verses Jokers and Drakers 1973
Article Written about gang fight at St. Stanislaus
"We want to help the community. This is our job. But we need cooperation," said a frustrated Lt. Joseph DiLeonardi, commanding officer of the gang crimes north unit.By press time Monday, no one had responded to an appeal from DiLeonardi in last week's NEWS calling for witnesses to volunteer information on the stabbing Saturday. Aug. 4; of Rizzo, 17. Press Release